Give your worn and drab concrete a complete face-lift.
Whether it's your driveway, walkway, porch, or your indoor concrete floors, we can take your plain-jane slab of concrete from drab-to-fab.

Our decorative concrete overlays are available in multiple colors, patterns and textures. We can customize your concrete slabs in a myriad of ways that can reflect your personal style.  We can also transform your boring and messy landscape edging into value-added curb appeal your neighbors will love with our professional landscape curbing.

An array of cement color choices.
In order to achieve the look you desire, we have many color options available. Our concrete is mixed with pigment, producing overlay that is colored throughout and will not chip off or peel.
Below is a chart of the approximate overlay integral colors. Please use this chart as a guide only.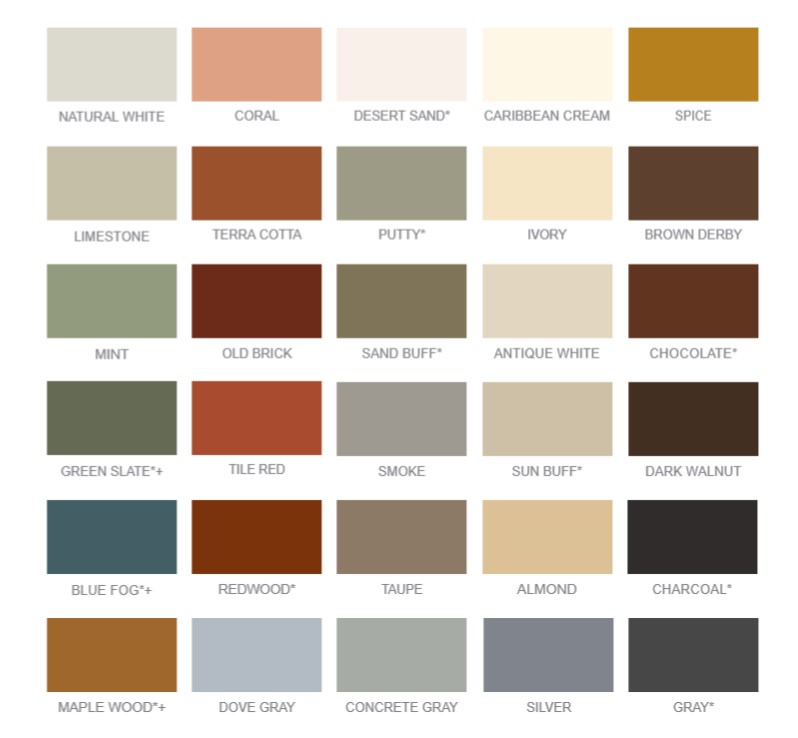 As well as an array of release agents.
Release agents are applied after finishing the install to add extra color and depth. Sealer is then applied to protect colors and enhance color tones.
Below is a chart of the approximate release shades for decorative overlay. Please use the chart as a guide only.
Pricing
When compared with other flooring products, concrete overlay is easily installed and personalized. It is an economical, long-lasting, and heavy duty alternative to much more expensive materials such as marble, granite or wood. Overlay prices vary due to color, texture, pattern, terrain, and more; it can cost anywhere from $3.00 to $8.00 per square foot for a basic floor, and between $8.00 and $25.00 per square foot depending on customization.
Care
How To Care For Your New Concrete Overlay
Curing
Stamped concrete takes 28 days to fully cure. The curing time for each installation is different. Your new overlay requires 2 hours of curing before it can handle light rain and 24 hours before it can withstand foot traffic. Try not to bump or hit your new concrete with hard objects for 28 days. You will notice the color changing during the curing process. This is normal for the curing process of concrete.
Crack Prevention and Guarantee
To help prevent cracking in your newly installed outdoor concrete, wait at least 12 hours after the installation before you water the surrounding sod or flower beds. Note: Repairs can be difficult to make in colored concrete. It is impossible to get a perfect color match. Sometimes the "cure is worse than the ill".  A hairline crack is much less noticeable than a patch or discoloration in the concrete.
Sealer
We use Acrylic Sealers on our overlay. Avoid foot traffic for at least 24 hours after the sealer is applied.
Things to Watch out for While Concrete is Curing
Make sure sprinkler systems do not come on for at least 24 hours. The Irrigation backwash from pools, condensate lines or rain can damage the concrete.  Keep pets, children and objects away from the concrete for at least 24 hours. Installation of sod, sprinkler work and landscape work can be started 24 hours after installation; however, caution must be taken as shovels, picks and wheelbarrows can damage the concrete for several more days while it is fully curing. If curbing is damaged we will come back and make necessary repairs; however, there is a minimum charge for this service of $150 dollars.
Warranty
Your overlay has a one year warranty against defects in materials and workmanship. It will be replaced at no charge if the defect is caused by the materials we use or the way it was installed by our workmen.