Commercial-grade Landscape Curbing & Concrete Overlays
"Scale. The methodology and processes are the same, the key is the ability to scale for the job." – Martin Campo (President, EdgeWise Curbing, Inc.)



Although the majority of our business revolves around residential applications, we successfully complete commercial-sized projects every month.

If you're a property manager or grounds manager and are seeking landscape curbing and/or concrete overlays from a commercial capacity, do not hesitate to reach out to us. We're well staffed and equipped to meet your needs.
An array of cement color choices.
In order to achieve the look you desire, we have many color options available. Our concrete is mixed with pigment, producing overlay that is colored throughout and will not chip off or peel.
Below is a chart of the approximate overlay integral colors. Please use this chart as a guide only.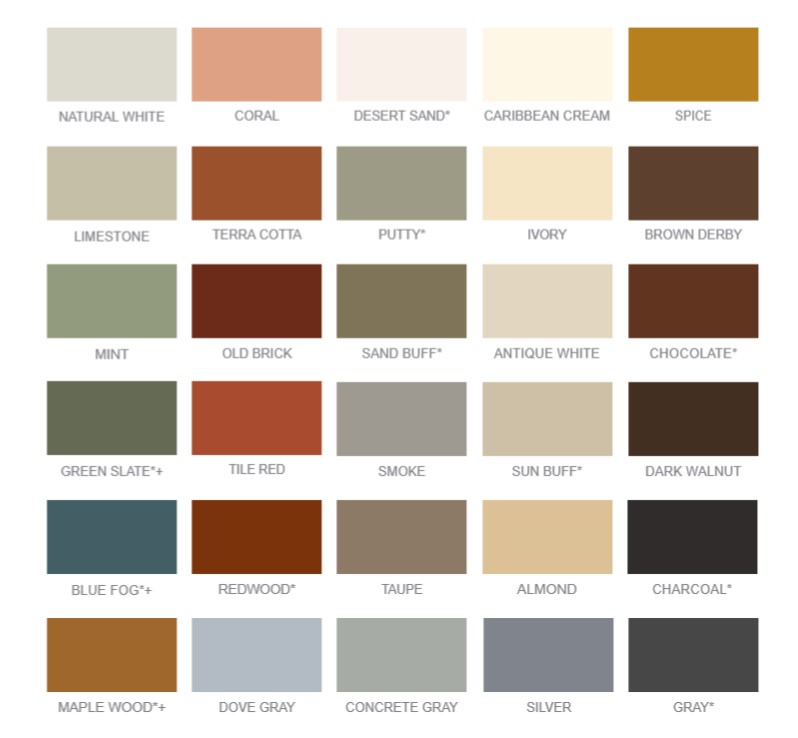 As well as an array of release agents.
Release agents are applied after finishing the install to add extra color and depth. Sealer is then applied to protect colors and enhance color tones.
Below is a chart of the approximate release shades for decorative overlay. Please use the chart as a guide only.
Concrete Overlay Pricing
When compared with other flooring products, concrete overlay is easily installed and personalized. It is an economical, long-lasting, and heavy duty alternative to much more expensive materials such as marble, granite or wood. Overlay prices vary due to color, texture, pattern, terrain, and more; it can cost anywhere from $3.00 to $8.00 per square foot for a basic floor, and between $8.00 and $25.00 per square foot depending on customization.
Landscape Curbing Pricing
You'll be surprised at how inexpensive our products are when compared to other edging materials. The quality, beauty, and durability of the results, in addition to the fact that it is completely installed with no work for the home owner, make us quite a value. Compared to "do it yourself" blocks that can be purchased and installed yourself, our prices are very comparable AND professionally installed. Concrete curbing prices will vary based on shape, stamps, colors, terrain and prep work involved, however it will cost the average homeowner between $5.00 to $11.00 per linear foot.
Warranty
Your overlay has a one year warranty against defects in materials and workmanship. It will be replaced at no charge if the defect is caused by the materials we use or the way it was installed by our workmen.